. . . but looking well thereabouts, and making diligent enquiry of the inhabitants, I found a large Moat,. . . . . . . . . . whereon they say a Castle long since was situate .
Some of the neighbourhood do call this Hoggs moat . . .
- Sir William Dugdale, 1656
Thank you for your visit today. The website is being revised at the moment - please let us know if an interactive element does not work on your device.

The conservation effort... A huge enterprise:
And this is Hobs Moat as you're more likely to see it today:
the south-eastern internal rampart and fronting ditch.
Preserved for the future.
A tribute to the community project
and to those who took part in it.
Erosion. Top-soil was imported to re-cover the eroded banks, amounting to around 2,000 tons. It was conveyed by hand onto the scheduled area, to avoid further damage to the earthwork.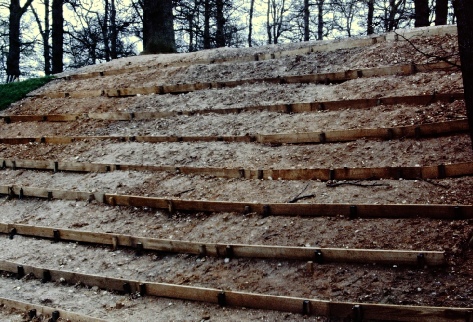 Boarding was installed around the ramparts to retain the soil. Covered initially with turf or seeded with grass, in time a more-suitable vegetation would establish itself in the new layer. Movement on the site would become progressively lessened.
Outside the scheduled area, to the east of the outer bank, a path was constructed. Paths had earlier developed on the banks themselves and this had contributed considerably to erosion. The new path extended around the monument to the north and south, to the playing field and allotments beyond.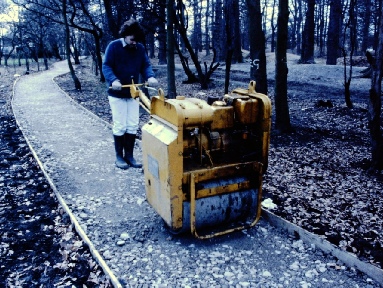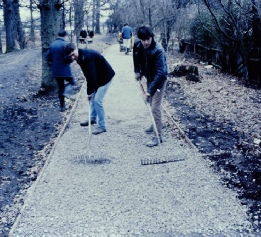 Half the project's workforce, 33 employees, was engaged in the conservation programme at any one time in the three years it operated.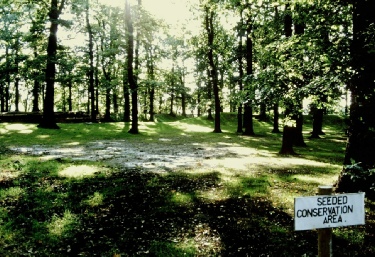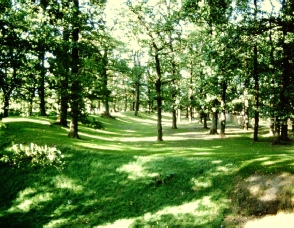 Thirty years have passed. Remarkably, the earthwork is everywhere now covered by bushes and low shrubbery. People visit the site when they wish to do so, but respect it.